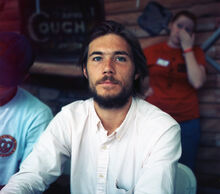 Alex Olson is a professional skateboarder. Olson is set to appear in Tony Hawk: Ride.
Alex Olson is the son of skateboard legend Steve Olson, and young Olson grew up curb surfing himself but soon became curious about photography when he started hanging out with artist and professional skater Ed Templeton. Olson currently skateboards for Vans shoes is sponsored by Girl Skateboards, which is co-owned by Spike Jonze.
Ad blocker interference detected!
Wikia is a free-to-use site that makes money from advertising. We have a modified experience for viewers using ad blockers

Wikia is not accessible if you've made further modifications. Remove the custom ad blocker rule(s) and the page will load as expected.