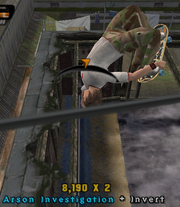 Arson Investigation is a gap in New Jersey. The player must lip the electric wire above the burned house, located next to the clinic.
The Arson Investigation is arguably one of the most hardest gaps to perform in New Jersey. Players must note that it could take some time to get used to performing this trick.
Ad blocker interference detected!
Wikia is a free-to-use site that makes money from advertising. We have a modified experience for viewers using ad blockers

Wikia is not accessible if you've made further modifications. Remove the custom ad blocker rule(s) and the page will load as expected.