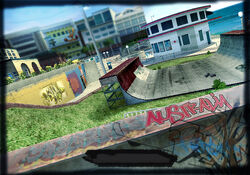 Australia is a level in Tony Hawk's Underground 2. It is set in Sydney near Bondi Beach.
Based on a few areas near Bondi Beach: Campbell Parade, Bondi Pavilion, Bondi Skate Park.
If the player walks close to the New South Wales Police Officer he will punch the player to the floor.
If you are walking towards near the water the Security Guard will tell you off.
An ad for Butterfingers can be seen in this level, despite Butterfingers not normally been advertised in Australia
There are Tetstra phone booths in this level.
With an exception of the Training level, Australia is the only story mode level to not feature a "Mark Your Territory" goal.
Ad blocker interference detected!
Wikia is a free-to-use site that makes money from advertising. We have a modified experience for viewers using ad blockers

Wikia is not accessible if you've made further modifications. Remove the custom ad blocker rule(s) and the page will load as expected.