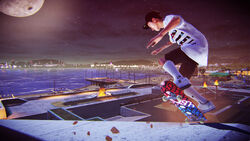 Bonfire Beach is a game level featured in Tony Hawk's Pro Skater 5.
Bonfire Beach is located at a Beach in Huntington Beach, California.
The Pits, from the level, Venice Beach from THPS2, THPS2x, THUG, and THPSHD made an appearance on the left side of this level, despite it being destroyed in 2000.
Ad blocker interference detected!
Wikia is a free-to-use site that makes money from advertising. We have a modified experience for viewers using ad blockers

Wikia is not accessible if you've made further modifications. Remove the custom ad blocker rule(s) and the page will load as expected.