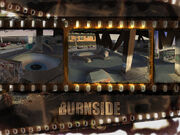 Burnside is a Tony Hawk's Pro Skater level, which also later appeared in Tony Hawk's Pro Skater 3. Second competition called "Asphalt Annihilation" is held in Burnside.
Burnside level is based on real world skatepark located in Burnside, Portland. Real park shape differs a bit from its game representation.
Burnside is a competition level in THPS1.
Bowl in Burnside represents Neversoft Eyeball, in the Dreamcast version and THPS2x the pupil features the Treyarch logo.
Burnside skatepark appears in Grind Session game for PS1.
See also
Edit
Ad blocker interference detected!
Wikia is a free-to-use site that makes money from advertising. We have a modified experience for viewers using ad blockers

Wikia is not accessible if you've made further modifications. Remove the custom ad blocker rule(s) and the page will load as expected.