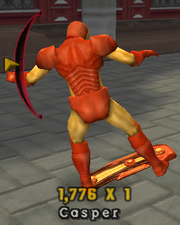 Casper is a flatland trick where the player has the board's trucks facing up, back foot on the tail of the board and front foot tucked under the grip tape.
Implementation
Edit
Perform any manual trick, that supports manual extensions.
Press Flip then Grind to start Casper.
Press Flip twice to perform Casper Flip.
Ad blocker interference detected!
Wikia is a free-to-use site that makes money from advertising. We have a modified experience for viewers using ad blockers

Wikia is not accessible if you've made further modifications. Remove the custom ad blocker rule(s) and the page will load as expected.