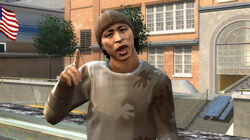 David Daewon Song (born February 19, 1975 in Seoul, South Korea) is a Korean American skateboarder. He is recognized for his technical street skateboarding.
He co-owns Almost Skateboards with fellow pro Rodney Mullen, and he skates for the team.
He made an appearance as a playable character in the video game Grind Session, as well as the Tony Hawk series of games, with his first appearance being in Tony Hawk's American Wasteland up to Tony Hawk's Proving Ground, but excluding Tony Hawk's Downhill Jam.
Ad blocker interference detected!
Wikia is a free-to-use site that makes money from advertising. We have a modified experience for viewers using ad blockers

Wikia is not accessible if you've made further modifications. Remove the custom ad blocker rule(s) and the page will load as expected.