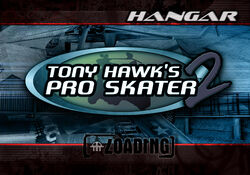 Hangar is a game level that first appeared in Tony Hawk's Pro Skater 2. The level re-appears in Tony Hawk's Underground as an unlockable level, as well as in Tony Hawk's Pro Skater HD as a normal career level.
Hangar is set in Mullet Falls, Montana, which is a fictional location. Neversoft's president Joel Jewett is from Great Falls, Montana, and he had a mullet back during development of the game, this explains why this location was chosen.
Unlockable areas
Edit
A outdoor Helipad area can be accessed by grinding the Helicopter located at the far end of the room.
A Wind Tunnel area can be accessed by grinding the "Propeller" located on the wall at the end of the "Half-Pipe".
You can hear wolves howling outside.
Snow is represented by just a few polygons and animated texture.
Level often glitches to hide specific areas if player crossed the middle wall in some unusual ways.
By the time of development it was planned to implement a secret Control Tower where a random dispacher chatter would be played just like later in THPS3 in Airport and Cruise Ship levels. Possibly it was meant to be the room above the current helipad as can be seen in E3 Demo. The other PC demo version of the game contained recorded audio files, but they did not make it to the final game. However, the Control Tower itself was moved to the starting point and appeared in THPS2x.
The frozen ramp room propeller was meant to kill skater, however this was removed from the game due to being "too gore".
With a ramp that goes down into the level and a halfpipe you can jump across, this level is similar to the Warehouse.
In the THPS2X version "Officer Dick" can be seen making an appearance stood inside a small room operating the Wind Tunnel. This room can be stalled on to get a good view.
| | |
| --- | --- |
| High Score - 10,000 | $100 |
| Pro Score - 25,000 | $200 |
| Sick Score - 75,000 | $500 |
| Collect S-K-A-T-E | $150 |
| Get 3 Hangtime Gaps | $150 |
| Collect 5 Pilot Wings | $250 |
| Nosegrind Over the Pipe | $150 |
| Barrel Hunt | $150 |
| Find the Hidden Tape | $150 |
| 100% Goals and Cash | $200 |
Ad blocker interference detected!
Wikia is a free-to-use site that makes money from advertising. We have a modified experience for viewers using ad blockers

Wikia is not accessible if you've made further modifications. Remove the custom ad blocker rule(s) and the page will load as expected.