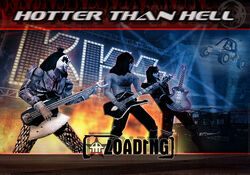 Hotter Than Hell is the ninth level in Tony Hawk's Underground that can be unlocked once all other story mode in-game levels are unlocked.
Hotter than Hell is based in outback Australia, on a large airstrip, and it features the band, KISS in concert after collecting all of the "KISS" letters scattered through the level. The majority of the map is a concert stage, however, players can roam the surroundings if they choose to.
Players can drive Trey Crawford's buggy in this map, which is located a little but further from the portaloos.
This map is famous for having the highest scoring gap in the game, Above All, which is worth 10,000 in-game points.
Ad blocker interference detected!
Wikia is a free-to-use site that makes money from advertising. We have a modified experience for viewers using ad blockers

Wikia is not accessible if you've made further modifications. Remove the custom ad blocker rule(s) and the page will load as expected.