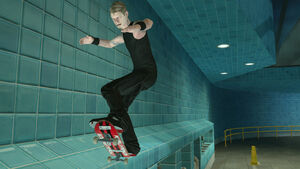 James Hetfield is a downloadable skater for Tony Hawk's Pro Skater HD, as part of the Revert DLC Pack. He is part of the famous metal band Metallica, and is available in the game alongside Robert Trujillo, the band's bassist, and their song All Nightmare Long, from their album Death Magnetic.
Ad blocker interference detected!
Wikia is a free-to-use site that makes money from advertising. We have a modified experience for viewers using ad blockers

Wikia is not accessible if you've made further modifications. Remove the custom ad blocker rule(s) and the page will load as expected.