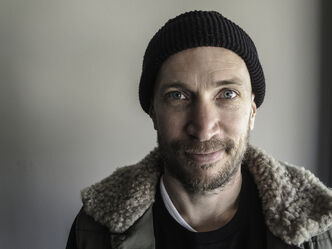 Jamie Thomas (born October 11, 1974), is an American professional skateboarder and skateboard industry magnate from Dothan, Alabama. His nickname in the industry is "The Chief". Thomas began skating at the age of 11, and slowly rose through the industry and went pro in 1994, with the help of the company Invisible, which is no longer operational. In 1995, Jame joined Toy Machine, a small skateboarding company. During his time with them, he attempted the dangerous "Leap of Faith" at Point Loma High School in San Diego. It is from this jump that the Leap of Faith gap in School II of Tony Hawk's Pro Skater 2 originated. In 1996, Thomas opened up a small clothing company which would later become Zero Skateboards. In 2000, Thomas expanded Zero and founded Black Box Distribution.
Jamie Thomas is one of the first skaters available in the Tony Hawk series, playable from Pro Skater to Underground. He has not been featured in the franchise since.
Jamie Thomas is one of the five original characters that have not made a appearance in any Tony Hawk games since the first five games, along with Kareem Campbell, Rune Glifberg, Bucky Lasek, and Elissa Steamer.
Ad blocker interference detected!
Wikia is a free-to-use site that makes money from advertising. We have a modified experience for viewers using ad blockers

Wikia is not accessible if you've made further modifications. Remove the custom ad blocker rule(s) and the page will load as expected.