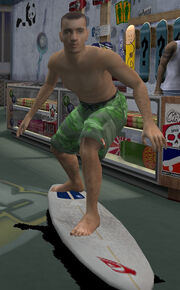 Kelly Slater is a real life professional surfer. The characterised version features as a novelty character on the game, Tony Hawk's Pro Skater 3. Instead of using a skateboard to skate, a wheelless, hovering surfboard is used instead. The appearance of Kelly Slater in THPS3 might be a promotion of another Activision game Kelly Slater's Pro Surfer.
When collecting stat points in-game, the game states that players are collecting break points. The name break points is most likely a reference to the word, break, defined in a surfing context as is a permanent obstruction such as a coral reef, rock, shoal, or headland that causes a wave to break.
External links
Edit
Ad blocker interference detected!
Wikia is a free-to-use site that makes money from advertising. We have a modified experience for viewers using ad blockers

Wikia is not accessible if you've made further modifications. Remove the custom ad blocker rule(s) and the page will load as expected.