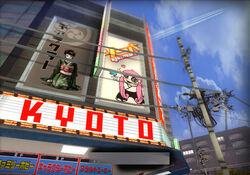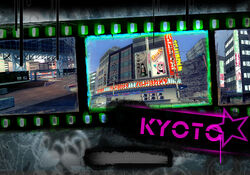 Kyoto is a level from Tony Hawk's Underground 2 Remix and a classic mode level in Tony Hawk's American Wasteland.
In THUG2 Remix, during this level, your character is on Team Bam, like in Berlin. In the end of this level, your character goes back to Team Tony.
Level Description
Edit
It is based off of the city of Kyoto, Japan. It even has the Kyoto Station as a real life location.
In THUG2 Remix, a giant monster named MegaBeast Zero (メガビーズトゼーロ) [parody of Godzilla] can be summoned by sticker slapping the 3 horns, then the level's secret skater Voltraman (parody of Ultraman) fights it, then it'll reproduce 10 Mini-MegaBeasts. After at, the Pachinko building is smashed. There is a goal where Voltraman has to kill 10 Mega-Babies.
In THAW, the Pachiko remains wrecked since THUG2 Remix.
The Mega-Babies will knock the skater down whenever he skates into them.
In THAW, in the subway of the Kyoto Station, a woman will be speaking over the PA system speaking either Japanese or English.

"Nuyoten,...<?>...yukuri ku."
"Nuyoten,...<?>...kudesai. Please report to the main office."
"Attention, everybody. The train to Tokyo 22 is late today."
Ad blocker interference detected!
Wikia is a free-to-use site that makes money from advertising. We have a modified experience for viewers using ad blockers

Wikia is not accessible if you've made further modifications. Remove the custom ad blocker rule(s) and the page will load as expected.