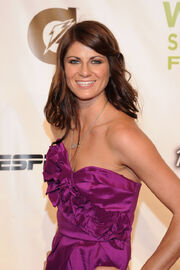 Lyn-Z Adams Hawkins (born September 21, 1989) is a professinal skateboarder and an avid snowboarder. Hawkins is originally from Cardiff-by-the-Sea, California.
Lyn-z Adams Hawkins made her video game debut as a playable skater in Tony Hawk's Project 8. She was the second female skater to appear in a Tony Hawk video game, following Elissa Steamer.
In 2007, Hawkins won the gold medal in the Women's Vert competition at X Games 13 in Los Angeles.
On November 21, 2009, Hawkins became the first female to land a 540 McTwist during the "Quiksilver Tony Hawk Show" in Paris, France.
Ad blocker interference detected!
Wikia is a free-to-use site that makes money from advertising. We have a modified experience for viewers using ad blockers

Wikia is not accessible if you've made further modifications. Remove the custom ad blocker rule(s) and the page will load as expected.