The Mat Hoffman's Pro BMX game series is a short-lived BMX-themed video game series, which includes only 2 games. It is known for usage of THPS mechanics and game basics.
First Game
Edit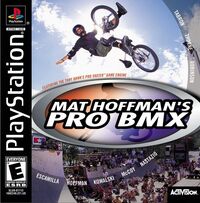 Mat Hoffman's Pro BMX is the first game in the series, developed by Runecraft and published by Activision. It uses the Tony Hawk's Pro Skater game engine.
As in THPS1, each level in MHPB includes 5 classic goals like high score, pro score, collect T-R-I-C-K letters, collect/break 5 items, find hidden cover. Unlike THPS, there are only two competition maps.
Each biker has two different BMX bikes in the options mode, powerups are added after completing a level. The game also features a create-a-park mode.
Tony Hawk appears in MHPB as a secret character and two THPS levels are unlockable - Warehouse and Burnside.
Mat Hoffman Pro BMX 2 is the sequel to Mat Hoffman's Pro BMX. It is available for the GBA, Nintendo GameCube, PS2, and Xbox. It was part of Activision's short-lived O2 line of extreme sports games. Like the first game, this game uses the game engine from Tony Hawk's Pro Skater.
Appearance in Tony Hawk's games
Edit
In N64 version of Tony Hawk's Pro Skater 2 Hoffman Bike Factory level from MHPB is a playable bonus level. PlayStation version of the game provides MHPB Demo whichis available from options menu.  With a little modding one could sucessfully play the level on the PC version of the game.
In Tony Hawk's Pro Skater 4, Mat Hoffman appears as NPC and gives player tasks in Kona and Chicago. Also Chicago level is originated from MHPB2.
In Tony Hawk's American Wasteland, Mat Hoffman appears in the game as a playable character, since the game has the ability to ride bikes. He starts out on a skateboard, although the player can switch between a skateboard and a bike only in free skate and story mode.
Hoffman Bike Factory
Construction Yard
London Underground
Bluetorch Competition
New York City Park
Treatment Plant
La Habra California
CFB Competition
THPS1 Warehouse
THPS1 Burnside
GBA Levels
Hoffman Bike Factory
Construction Yard
London Underground
The Park
The Works
CFB Competition
GBC Levels
Hoffman Bike Factory
Construction Site
Rotterdam Dockyard
Old Jail Yard
C.F.B. Tournament
OK City, OK
Chicago, IL
Las Vegas, NV
New Orleans, LA
Portland, OR
Los Angeles, CA
Boston, MA
Tiki Park, HI
Ad blocker interference detected!
Wikia is a free-to-use site that makes money from advertising. We have a modified experience for viewers using ad blockers

Wikia is not accessible if you've made further modifications. Remove the custom ad blocker rule(s) and the page will load as expected.