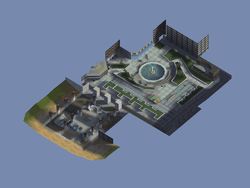 Philadelphia is a level from Tony Hawk's Pro Skater 2. It appears in THUG2 as an unlockable level from classic mode. An adaptation of the level also appears in Tony Hawk's Proving Ground.
The level itself is a transition of 2 famous skate spots located in Philadelphia, Pennsylvania - FDR Skatepark and Love Park (including Fairmount Park Welcome Center).
Level specific
Edit
Whole FDR Skatepark may be considered a secret area since it's locked by default.
The other remarkable subject is the ability to drain water in the fountain in the middle of the map.
| | |
| --- | --- |
| High Score - 50,000 | $2500 |
| Pro Score - 125,000 | $3000 |
| Sick Score - 250,000 | $4000 |
| Collect S-K-A-T-E | $2000 |
| Drain the Fountain | $2500 |
| Collect 5 Bells | $2000 |
| Bluntslide the Awning | $2000 |
| Liptrick 4 Skatepark Lips | $2500 |
| Find the Secret Tape | $2000 |
| 100% Goals and Cash | $500 |
L-O-V-E letters of the red sculpure are replaced with T-H-P-S and T-H-2-X in the respective versions.
Unique Philly bus is roaming around the district. It allows player to perform Bus Plant.
The train in the background doesn't really move, it is simply a scrolling texture on a static model. In THPS2x & THUG2 the train sports the Treyarch logo.
This is the only level in THUG2 where female pedestrians can get knocked down.
Level thumbnail in THPS2 beta presented Philadelphia City Hall, however it was never used in the level.
Ad blocker interference detected!
Wikia is a free-to-use site that makes money from advertising. We have a modified experience for viewers using ad blockers

Wikia is not accessible if you've made further modifications. Remove the custom ad blocker rule(s) and the page will load as expected.