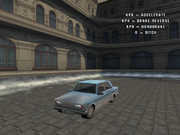 The Russian car is one of the many vehicles that you can drive in Tony Hawks Underground.
The Russian car is modeled after the Lada 2107
This vehicle can be seen on the Los Angeles freeway in Tony Hawks Underground 2.
The Russian car was supposed to appear in New Jersey traffic but was probably cut for unknown reasons.
The Russian car can be seen on a vehicle lift in New orleans.
Ad blocker interference detected!
Wikia is a free-to-use site that makes money from advertising. We have a modified experience for viewers using ad blockers

Wikia is not accessible if you've made further modifications. Remove the custom ad blocker rule(s) and the page will load as expected.