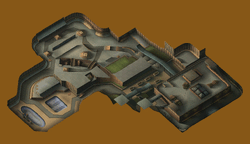 School is a Tony Hawk's Pro Skater level, which also later appeared in Tony Hawk's Underground 2.
School level is a fictional area located in Miami.
High Score - 7,500 Points
Grind 5 Tables
Get S-K-A-T-E
Hidden Tape
Pro Score - 25,000 Points
School is often referred as School 1 and considered as School 2's predecessor.
Beta version of School did not include the main building in the middle of the level.
According to the World Map in the Level Selection of Tony Hawk's Underground 2, School is based in South Africa.
School was one of the levels that did not enter in THUG level roster, however level files still can be found there.
External links
Edit