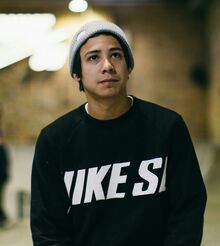 Sean Malto (born September 9, 1989) is an American professional skateboarder. He won the 2011 Street League Skateboarding championship.
Malto's first skateboard deck sponsor was Girl Skateboards and, as of April 2015, he continues to be sponsored by the company.[4]Malto's part in the 2012 Girl/Chocolate video Pretty Sweet was remixed by Girl and Ed Banger Records. Nearly ten minutes in length, the remixed part is edited to the Justice song "Brian Vision MMXIII" and "Secam" by Mr. Oizo.
At the finals of the Kansas City stop of the 2013 SLS competition, one of Malto's skateboarding trucks dismantled during the performance of a trick and he was subsequently eliminated as a contender.
Is a playable character in Tony Hawk: Shred
Ad blocker interference detected!
Wikia is a free-to-use site that makes money from advertising. We have a modified experience for viewers using ad blockers

Wikia is not accessible if you've made further modifications. Remove the custom ad blocker rule(s) and the page will load as expected.