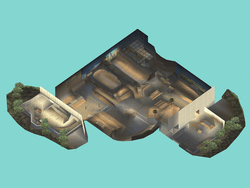 Skatestreet is a game level in Tony Hawk's Pro Skater 2. Second competition called Plywood Paradise is held there.
Skatestreet is a real world skatepark that is located in Ventura, California. Game level copies its exact state at 1998.
Level Specific
Edit
Skatestreet is a competition level.
There are two secret areas outside the skatepark which are unlocked by grinding specific rails.
If you'll look into the window, you can notice skateshop out there.
Ad blocker interference detected!
Wikia is a free-to-use site that makes money from advertising. We have a modified experience for viewers using ad blockers

Wikia is not accessible if you've made further modifications. Remove the custom ad blocker rule(s) and the page will load as expected.