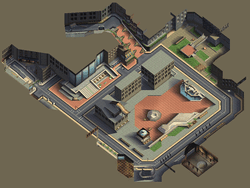 Streets is a game level in Tony Hawk's Pro Skater.
Streets level is located in San Francisco and includes several spots from San Francisco such as Lombard Street, Hubba Hideout, China Town, Clock Tower, Embarcadero Pier, Vaillancourt Fountain etc. Most of them appeared in Animal Chin movie, starring Tony Hawk.
High Score - 25,000 Points
Wreck 5 Cop Cars
Get S-K-A-T-E
Hidden Tape
Pro Score - 50,000 Points
You can find San Francisco Cable Car riding around the Streets.
Skater can't grind Cable Car railroad.
External links
Edit
Ad blocker interference detected!
Wikia is a free-to-use site that makes money from advertising. We have a modified experience for viewers using ad blockers

Wikia is not accessible if you've made further modifications. Remove the custom ad blocker rule(s) and the page will load as expected.