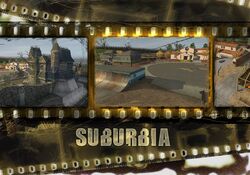 Suburbia is the fourth level in Tony Hawk's Pro Skater 3. It features a cul-de-sac, three houses (one is haunted), trailers, a construction site, and a swimming pool. In the PC/GC/PS2/Xbox version, the haunted house is skatable and the ice cream truck moves around, while the PS1/N64 version, the haunted house is out of level bounds and the ice-cream truck is stationary.
High Score: 55,000 points.
Pro Score: 110,000 points.
Sick Score: 200,000 points.
Collect S-K-A-T-E
Get the Secret Tape
Heelflip the Trailer Hop
Squash 5 Pumpkins
Help the Thin Man
Restore Power to Dish
Ad blocker interference detected!
Wikia is a free-to-use site that makes money from advertising. We have a modified experience for viewers using ad blockers

Wikia is not accessible if you've made further modifications. Remove the custom ad blocker rule(s) and the page will load as expected.