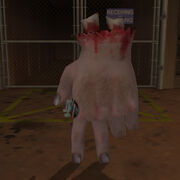 The Hand is an unlockable character in Tony Hawk's Underground 2, unlocked by completing Story Mode on the Normal difficulty. As its name implies, The Hand is a giant severed hand that is somehow capable of skateboarding.
The Hand resembles a fleshy version of Master Hand from Super Smash Bros., with both being giant disembodied hands.
Ad blocker interference detected!
Wikia is a free-to-use site that makes money from advertising. We have a modified experience for viewers using ad blockers

Wikia is not accessible if you've made further modifications. Remove the custom ad blocker rule(s) and the page will load as expected.