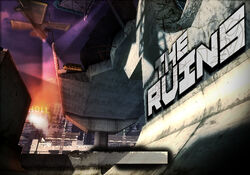 The Ruins is a classic mode level featured in Tony Hawk's American Wasteland and the PSP version of Tony Hawk's Project 8.
It takes place in post-apocalyptic Los Angeles.
Locations
Edit
Some locations include a parking lot, a skyscraper, a broken train with ramps, a powerplant on the background, an open sewer, many barriers, a bulldozer, a bridge near the parking lot and an helicopter flying over the parking lot. The Hollywood sign can be seen, alongside with some broken buildings.
Ad blocker interference detected!
Wikia is a free-to-use site that makes money from advertising. We have a modified experience for viewers using ad blockers

Wikia is not accessible if you've made further modifications. Remove the custom ad blocker rule(s) and the page will load as expected.