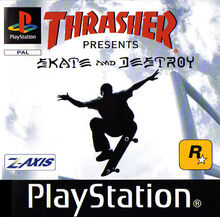 Thrasher: Skate And Destroy (also known as Thrasher SK8 in Japan) is a skateboarding simulator developed by Z-Axis and published by Rockstar Games for the Sony Playstation. The game was released on September 26th 1999, A version for the Game Boy Color was in development but was eventually cancelled. Due to being released around the same time as THPS1, the game was severely overshadowed and received less recognition, despite this the game was praised for it's sim-like approach to skateboarding.
Unlike the Tony Hawk's franchise, Skate And Destroy concentrated on physics and techniques - the game featured a more realistic control style than THPS, similar to what made the Skate series popular years later. The goal of the game is to beat the high score on each level without breaking the board or being shocked and busted by the police, who show up in the last ten seconds of their run. Much like in THPS, there were several competition levels that the player had to complete, however the player's final score would be devalued if the player repeated tricks too often or if they bailed. Thrasher also featured a ragdoll physics system that could potentially ruin the players run if they damaged their board or broke several bones, a similar ragdoll and bone system was featured in Tony Hawk's Project 8 years after the release of this game. Thrasher even involved some elements that the THPS series lacked or added in following games, including the revert, nollie tricks, board damage etc.
The game's engine was later used to build up Dave Mirra Freestyle BMX game.
Thrasher: Skate and Destroy's soundtrack completely consists of songs in the rap genre, many from the "Golden Age" of hip-hop, the game featured tracks such as Rebel Without a Pause by Public Enemy, White Lines by Grandmaster Flash & Melle Mel and Rapper's Delight by The Sugarhill Gang, the latter also appeared in THUG2.
Ad blocker interference detected!
Wikia is a free-to-use site that makes money from advertising. We have a modified experience for viewers using ad blockers

Wikia is not accessible if you've made further modifications. Remove the custom ad blocker rule(s) and the page will load as expected.