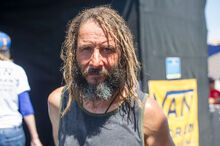 Tony Alva (born September 2, 1957) is an American skateboarder, most prominently known as one of the original members of the Zephyr skateboarding team. The Transworld SKATEboarding magazine ranked him in eighth position in its list of the "30 Most Influential Skaters" and a video interview was published in May 2013.
Tony Alva was featured in "Tony Hawk's American Wasteland. 
Ad blocker interference detected!
Wikia is a free-to-use site that makes money from advertising. We have a modified experience for viewers using ad blockers

Wikia is not accessible if you've made further modifications. Remove the custom ad blocker rule(s) and the page will load as expected.