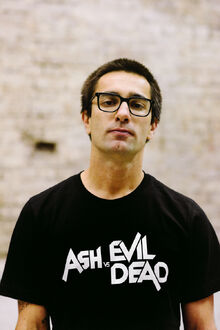 Tony Trujillo (born August 23, 1982) is an American professional skateboarder and musician. Trujillo was awarded the "Skater of the Year" award by Thrasher magazine in 2002.
At the age of fourteen, Trujillo was first sponsored by AntiHero and he was assigned professional status with the company two years later.
Trujillo has a signature shoe line with Vansand the company produced two commercials, shot by Stacy Peralta, to advertise the shoe (Trujillo appeared in both).
Trujillo appears as a playable character in Tony Hawk's American Wasteland.
Ad blocker interference detected!
Wikia is a free-to-use site that makes money from advertising. We have a modified experience for viewers using ad blockers

Wikia is not accessible if you've made further modifications. Remove the custom ad blocker rule(s) and the page will load as expected.