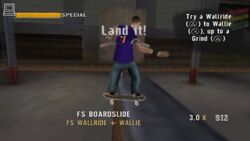 Training is a level found in Tony Hawk's Project 8. The level is exactly what the title describes: a training level. In this level the skater is trained by none other than Tony Hawk himself on the fundamentals of skating in Project 8. The level doesn't have much to offer aside from a few ramps and rails, and it tries to make use of set pieces to assist your learning more than the concrete foundations of the level.
See also
Edit
Ad blocker interference detected!
Wikia is a free-to-use site that makes money from advertising. We have a modified experience for viewers using ad blockers

Wikia is not accessible if you've made further modifications. Remove the custom ad blocker rule(s) and the page will load as expected.