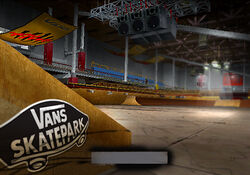 Vans Skatepark is a game level in Tony Hawk's American Wasteland based on the real-world location of the same name. In the story mode of Tony Hawk's American Wasteland, the Vans Skatepark is located in the city of Los Angeles in Downtown Los Angeles, but in real-life, the Vans Skatepark is located in Orange, California.
There is a secret area in the Vans Skatepark. To get into this area you must Wallplant a Pair of doors that are shut. The doors are located by a silver rail at the back of the section with humps, you can also get into it from the top.
If you hit the powerade machines a powerade comes out, you can do this as many times as you want.
The player will get electricuted if he hits the electrical box by the pool.
Ad blocker interference detected!
Wikia is a free-to-use site that makes money from advertising. We have a modified experience for viewers using ad blockers

Wikia is not accessible if you've made further modifications. Remove the custom ad blocker rule(s) and the page will load as expected.