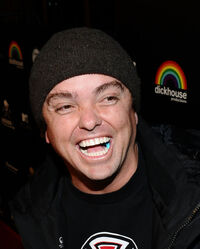 Jason Acuña, mostly known as Wee Man, is an American TV host, actor, and a professional skateboarder. He is one of the stars of Jackass on MTV and the host of NESN's skateboarding show 54321. Acuña has achondroplasia, a form of dwarfism and is 4 ft 0.5 in (1.23 m) tall. Born in Pisa, Italy, Acuña grew up in Torrance, CA and attended North High School.

Acuña was featured in the video game, Tony Hawk's Underground 2.
Ad blocker interference detected!
Wikia is a free-to-use site that makes money from advertising. We have a modified experience for viewers using ad blockers

Wikia is not accessible if you've made further modifications. Remove the custom ad blocker rule(s) and the page will load as expected.